RAF V (AC) Squadron
​​​​​​​

The Squadron was formed at Farnborough on 26 July 1913 when they where required to provide reconnaissance for the BEF in France in August 1914. The Squadron then took a leading role in the development of aerial photography and wireless telephony during the early days of the War.
V (Army Cooperation) Squadron is now based at RAF Waddington, its reformation in 2004 marked the beginning of a new era in the world of military Intelligence, Surveillance and Reconnaissance for the Squadron. The new role is to operate the Airborne Stand-Off Radar System.
The Officer Commanding, Wing Commander Dominic "Dutch' Holland, has approximately 250 personnel. When at full strength, the Squadron will have over 300 RAF and civilian personnel.
However, perhaps the most particular aspect of the Squadron is its mission, as this new type of surveillance system is at the cutting edge of technology and military capability.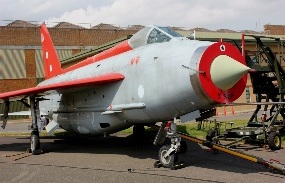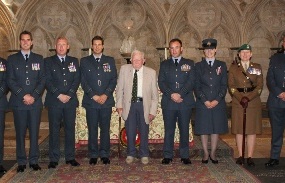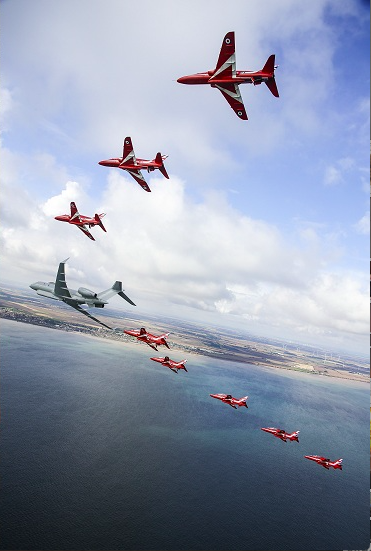 Following an initiative by the late Leonard Williams CBE, a past Assistant on the Basketmakers' Court and with help and advice from Sir John Curtiss KCB, KBE, FRAeS, the Affiliation with V (AC) Squadron was approved by the Basketmakers' Court on 17th July 1996. A Court Dinner was held at Saddlers Hall on 7th May 1997 to mark the Affiliation.
The Affiliation has continued with great success since that time and despite the heavy workload in the Afghanistan and Libyan theatre of operations many Officers have been entertained at our Livery Dinners together with visits to the Squadron at Waddington. Regular contact is maintained by Court Assistant David Herbert who receives regular updates on the Squadron's activities and provides news about the Company's events which is always well received. When the opportunities arise officers attend our Livery Dinners.
The Company also provides an annual prize to the most outstanding "other rank" in the Squadron that comprises a personal cash payment and a donation to the RAF Benevolent Fund.