Welcome
Autumn 2023
​​​​
Summer seems a long way away now! We have been busy over the past few months with our Annual Banquet at Mansion House. At which we were very honoured to welcome the Lord Mayor. This was quickly followed by the most important day of the Calendar... The Installation.

We also enjoyed some wonderful events such as the Election of the Lord Mayor which was followed by a very lively lunch at Painters' Hall.

Please see the link in "Latest News" for our newsletter.

Now that the leaves have turned and the heating has been put on, we look to the rest of the year. The Stewards' Club dinner is on 13th November and then all members, their friends and family have the opportunity to make their own basket on the 25th November. A day that always proves to be great fun.

We then close the year with a wonderful Carol Service at our Guild Church, St. Margaret Pattens followed by dinner at Watermens' Hall.
​​​​​​​
​​​​​​​With best wishes,

Richard T Turner
Clerk to the Basketmakers' Company
---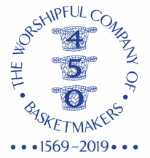 In 2019 the Company celebrated the
​​​​​​​450th anniversary of it's formation in 1569
Basketry is a very ancient craft, one of the first crafts adopted by humans. The oldest known baskets so far discovered were found at Fayum in Egypt and have been carbon dated to around 10,000BC. We can not claim quite such a long history but The Worshipful Company of Basketmakers was formally constituted by the Court of Aldermen in 1569 to help support the trade.
Today, the company aspires to be an inclusive, friendly and diverse Livery which remains modern and relevant by effectively supporting our ancient craft, London charities and the historic traditions of the City of London.
For centuries, our members were all professional basketmakers and we regulated their trade in the City. Today we welcome people from all walks of life.
​​​​​​​We continue to promote the craft of basketmaking and through our Charitable Trust we also help good causes and communities across London. 
​​​​​​​We have earned a reputation as one of the friendliest Livery Companies, and our social programme extends from formal dinners to family days out, including our well-known basketmaking days.

Please contact our Clerk for further information or visit our Membership page.
---
---
---