Wardens

​​​​​​​The chief officer of the Worshipful Company of Basketmakers is the Prime Warden. He or she is supported by an Upper and Under Warden. Until 1998 the Company had only a Prime Warden and a Junior Warden. It was then felt that with the growing demands being placed on the Prime Warden it would be preferable to have two Wardens supporting them and also to give the Prime Warden an extra year in which to learn and understand their role
The Wardens are elected at the July Court meeting each year and they are installed on Installation Day each October. The Installation Day commences with a service of thanksgiving and blessing at our Guild Church of St. Margaret Pattens in Eastcheap. The Company then moves to a Livery Hall for lunch and the installation of the Wardens for the forthcoming year.
The Basketmakers' Company is one of only 7 Livery Companies in the City of London to have a Prime Warden. The others are the Blacksmiths', Dyers', Fishmongers', Goldsmiths' Shipwrights' and Saddlers' Companies. All the other City Livery Companies have a Master with the single exception of the Weavers' Company who have an Upper Bailiff. The Basketmakers' Company appear to have had an Upper Warden as their main officer from their foundation right up to 1846 when it was decided to change the title to Prime Warden. No reason is given for this change.

​​​​​​​Wardens
2020 - 2021​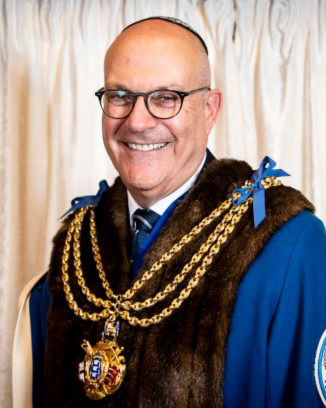 Lewis Bloch 
​​​​​​​Prime Warden
​​​​​​​

Lewis Bloch was born in Bloemfontein, South Africa in 1956. He attended Grey College, a well- known boys school in the area, for all of his school life. Grey College is famous for producing many Springbok rugby and cricket players but Lewis was sadly not one of them, his achievements being more in the area of music and debating. On completing school he was conscripted into the South African Defence Forces where he attended an officers training course achieving promotion to lieutenant and the post of intelligence officer to the battalion.

Lewis attended the University of the Witwatersrand (Wits) in Johannesburg qualifying as a Batchelor of Commerce and subsequently a Batchelor of Accountancy. He took his board exams in 1980 after being articled to Coopers and Lybrand. Not wishing to remain in the accountancy profession, Lewis joined Liberty Life, a large and prestigious South African insurance company, where he had a successful career as a fund manager.

His life changed when visiting the UK in 1981. He met his wife to be, Andrea, on a blind date, and they were married in South Africa in 1984. Lewis and Andrea moved to the UK in 1985 where Lewis continued his profession in the financial services industry. He subsequently founded Berkeley Management and Finance Ltd and pioneered the relationship between financial service providers and Accountancy and Solicitors firms forming numerous joint ventures within both industries.

Lewis has recently retired from the role ofManaging Director of the Genesis Capital Group which has interests in Life Insurance, Commercial Insurance, Healthcare, Investment Management and Mortgage Provision, a position he held for 11 years.

Lewis joined the Basketmakers' Company in 2001, joined the Court in 2013 and became Prime Warden in October 2020.
​​​​​​​
He is actively involved in his Synagogue having served the office of Warden for seven terms. He is a member of the Lords Taverners, the Guild of Freemen, the City Livery Club and an associate member of the MCC. He is a senior Freemason currently holding the office of Metropolitan Grand Inspector within Metropolitan Grand Lodge.

​​​​​​​Lewis's interests encompass music, classic cars and bridge. He also continues to contribute his time and expertise to numerous charities,following his fundraising activities alongside the late Nelson Mandela.

​Lewis is supported by his wife Andrea, Adam and Bridgette, Daniel and Sarah and daughter Lara.

---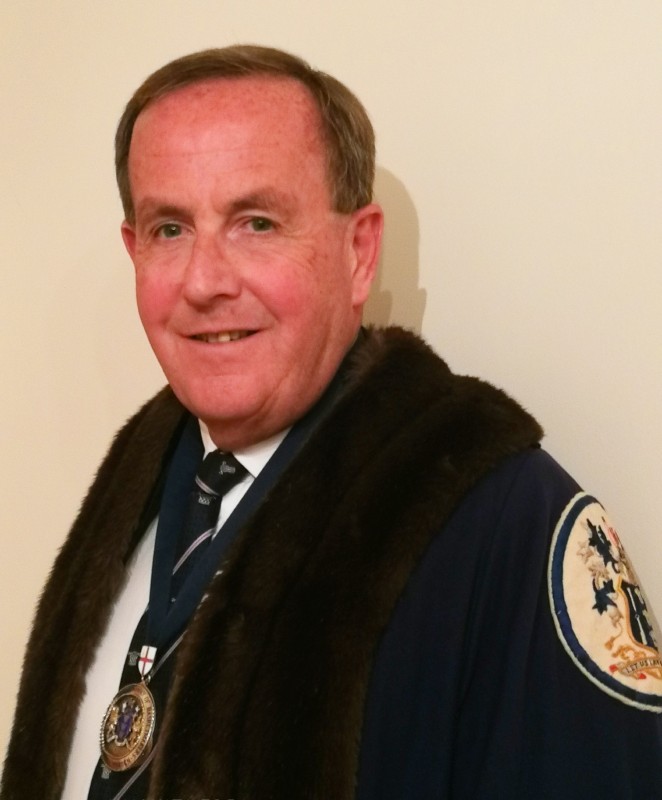 Roger Harper MBE
​​​​​​​Upper Warden
​​​​​​​

Roger graduated with an LL.B from Birmingham University. He then spent 31 years in private practice firstly as a Solicitor and then secondly as a Barrister. Initially specialising in crime and family Roger then ended up being an employment law specialist.  In 2010 he left private practice upon his appointment as an Employment Judge sitting firstly in Cardiff then in Bristol. He was also one of 130 Judges in the country appointed as a Diversity and Community Relations Judge. Upon reaching 65, Roger retired in June 2020.

Roger was born in Bristol and continues to live there.

Roger is a Past President of Bristol Junior Chamber and also a Past President of Bristol Breakfast Rotary Club. He is an active honorary member of Gordano Breakfast Rotary Club. He is a colt member of the prestigious St. Stephen's Ringers, and a member of the Pink Elephants dining club. Roger is involved in three twinning associations with the cities/towns of Hannover, Schweich, and Oporto.

From 2013 – 2018 Roger was a very hands-on Chair of Trustees of the Jessie May Trust, retiring as a trustee in September 2019. He remains very committed to the charity and is currently an Ambassador for them.  For ten years Roger was an active supporter of the Avon Swifts Disabled Sports Team.

In 2019 Roger received the MBE for services to charity and the community.
Roger is married to Olga, also a retired Employment Judge. They have two adult children,
Louisa and Edward, and three grandchildren.

Roger joined the Worshipful Company of Basketmakers in 2011 and feels very privileged and proud to be a member. He was elected a Court Assistant in 2016., Under Warden in 2019, and Upper Warden in 2020.

Roger has a wide range of interests including high altitude and long distance walking. He climbed Mount Kilimanjaro in 2000, has done the whole length of the Pennine Way ( 270 miles) in two weeks, and he led a Three Peaks Challenge team in 2008 raising £10,000 for charity. Roger has run the London Marathon, four half marathons, and two 10K's raising considerable sums for charity.

Roger is a keen skier. In retirement Roger has taken up wild swimming in a local lake and tries
​​​​​​​to swim in other locations where he can at any opportunity. He and Olga go for extensive walks with their springer spaniel – enjoying especially lovely walks in Devon where Roger and Olga have a caravan and spend a considerable amount of time.

Roger is a veteran of 15 Glastonbury Festivals where he and Olga work as voluntary campsite stewards raising money for charity. He has seen many of the world's leading rock bands and artists performing there.  He is looking forward to attending future festivals.

---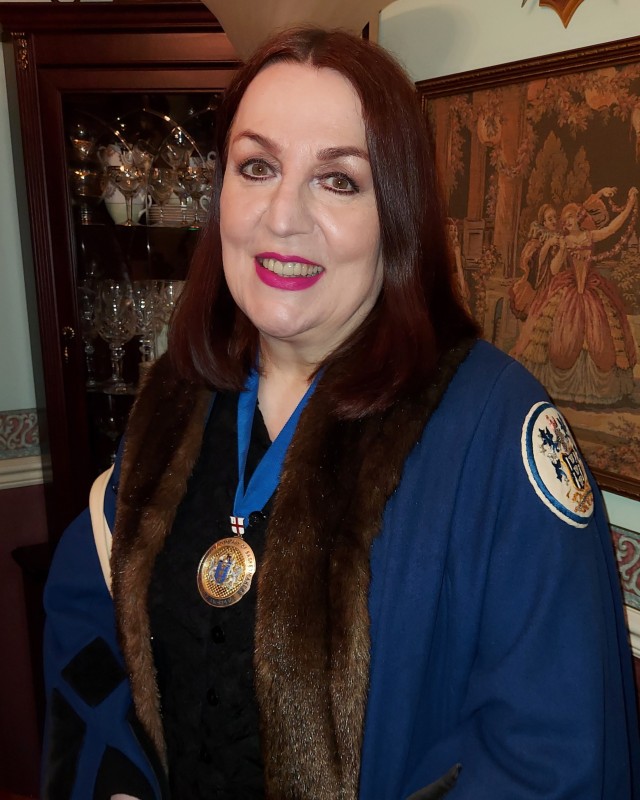 Judy Tayler-Smith 
​​​​​​​Under Warden
​​​​​​​
---

​​​​​​​Judy was born & grew up in the City of London and lives in the Barbican area with her husband, Simon. Her education was at the University of London and the Institute of Archaeology UCL. She also studied Wines, Spirits and Other Beverages at the WSET School. 

Judy established her involvement with the Civic City in 1986, when she became an Officer of the City of London Corporation. Whilst there, she worked for 17 years in the Libraries and Archives Department. She has written articles for City newsletters, both on food and wine and on the City and its history. She received the Freedom of the City of London in 1996.

Judy is a well-known face throughout the City, having chaired/sat on numerous committees and governing bodies over the past 34 years; including six successful Shrieval Campaign Committees.
She is currently Under Warden of the Worshipful Company of Basketmakers; Council Member of the Royal Society of St. George Westminster Branch; Dame Grand Commandeur, Chancelier & Maître des Armes, for the Confrérie du Sabre d'Or; and Dame Officier of the Ordres des Coteaux de Champagne.

Other roles include:  Foreman (=Master), the Guildable Manor of Southwark ( 2018-19); & Tithingman of the Manor (2020 – Present); Master of the Worshipful Company of Upholders (2017- 18); President of the City Livery Club (2012-13; and Director from 2003-18); Master of Cripplegate Ward Club (2013-14); President of Farringdon Ward Club (2015 - 16); Master of the Tanners Company of Bermondsey (2016-17). 
In Scotland she has the Freedom of the City of Glasgow (a Burgess); a Guild Sister of the City of Glasgow, through the Incorporation of Wrights and a member of the North Parish Washing Green Society. She has been a Fellow of the Society of Antiquaries of Scotland since 2002.  

She is on the Committee of 'Women in the Livery' and a member of five Past Masters Associations;  'Great 13'; 'Prime Masters' ; 'Spitfire Masters';  'Apollo 19's' and  Lady Masters' . She is a life member of the Guild of Freemen; a member of the Royal Society of St. George, City of London Branch and a member of Bridge Ward Club. 
Other past roles include, Chairman (2006-08) and Hon. Secretary (2002-2011), City Livery Wine Circle (Founder member 2000); Chairman of the City Livery Club's 'Root and Branch Awards;' Chairman of the International Wine and Food Society, London Branch (2008-10); Hon. Archivist of the Upholders Company (2009 – 17); Hon Archivist of the City Livery Club (2010 -15) and Constable for the City of London for the Confrérie du Sabre d'Or (2007 -13).  
Judy's main interests include the City of London, Scotland, collecting antiquities, jewellery, science fiction/fantasy films and books, classical music/opera, fine dining, wine and champagne.   
---