Events 2020 - 21

14th October 2020 - 13th October 2021 Prime Warden - Lewis Bloch

Consorts Basketmaking Day
​​​​​​​7th October 2021
After a long hiatus, the ever popular Consorts' Basketmaking Day returned to the calendar and took place at the Dutch Church.  14 Consorts and 1 Master were  taught expertly by Yeoman John Galloway, ably assisted by our Trade Advisor, Ellie Morgan, how to make blackberry foraging baskets in the wonderfully colourful dyed willow that John is renowned for.  PPW Chris Hipkins and Liveryman Mike Horton hosted the day with PPW Stephen Gee and the Clerk in attendance.  As the picture shows the was a delightful array of coloured baskets carried home.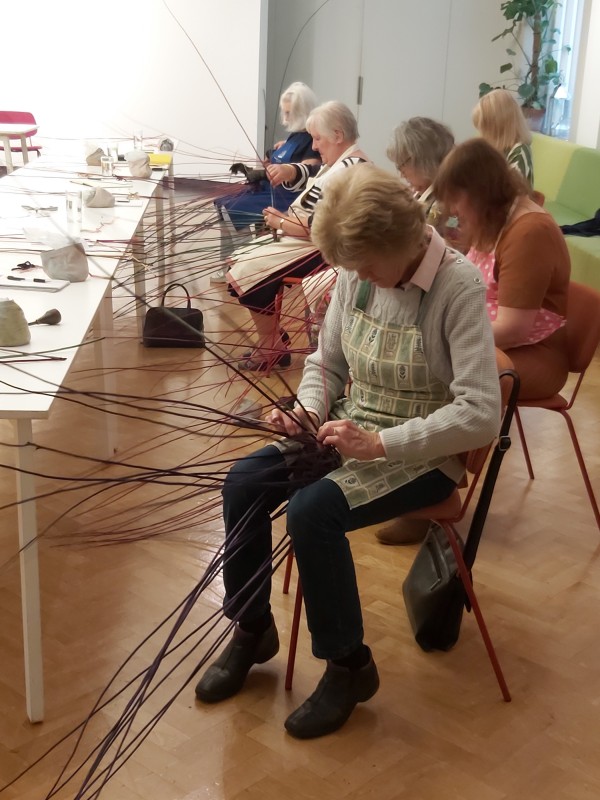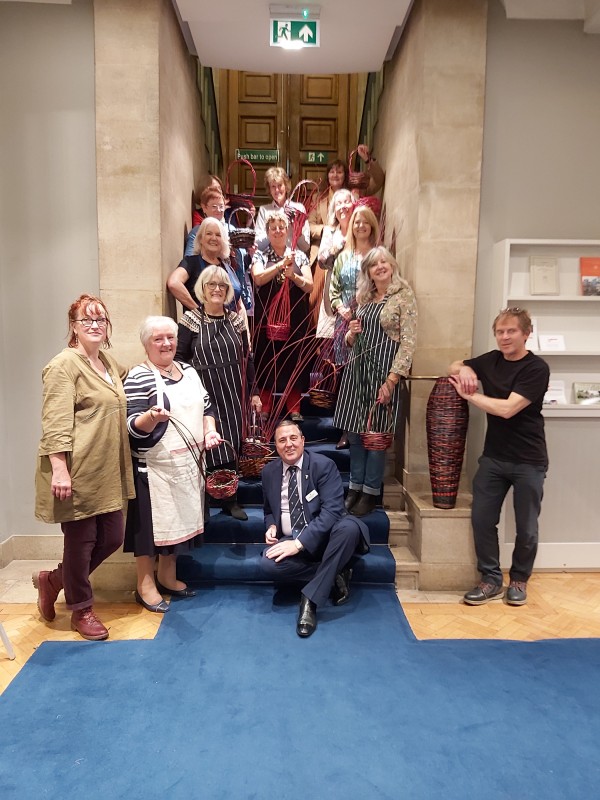 ---
Company Banquet
​​​​​​​30th September 2021
On 30th September we returned to Mansion House for a very well supported Company Banquet.  Representative Lord Mayor, Alderman Sir David Wootton and Lady Wootton were the special guests along with Alderman & Sheriff Alison Gowman.  The guests were greeted by the Light Cavalry (unmounted) carpet guard and serenaded through the evening by the London Banqueting Ensemble.  A special performance from acapella group the Oxford Gargoyles entertained with performances during the reception and main course.  IPPW Anne Holden kindly sponsored the table flowers, of which there was one for each lady guest to take home.  It was a very happy evening.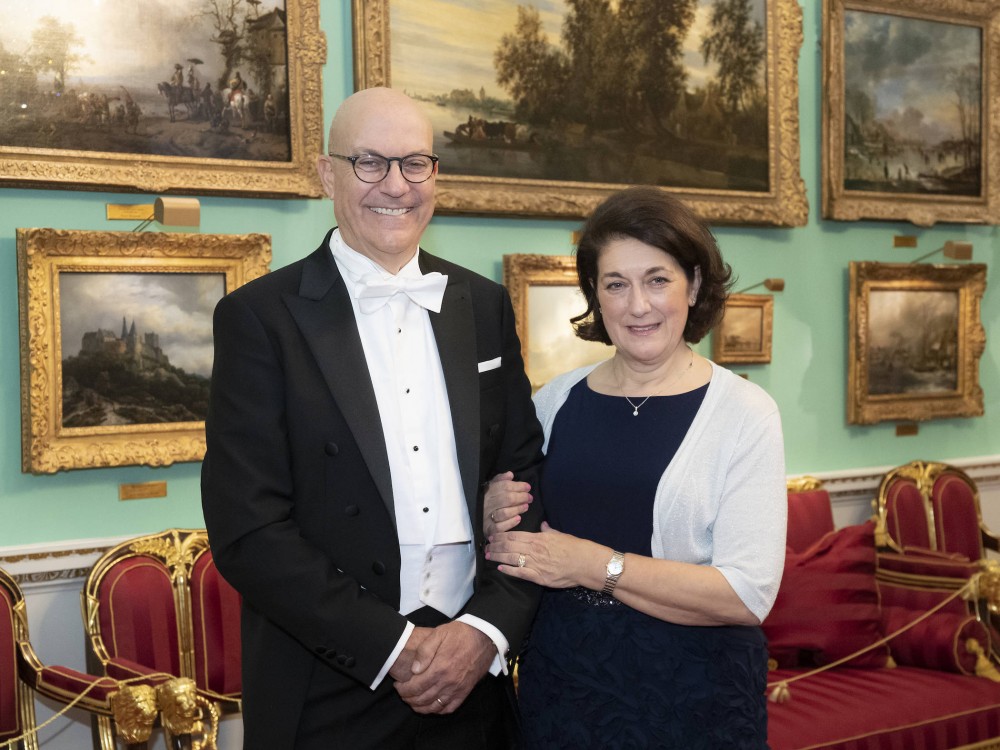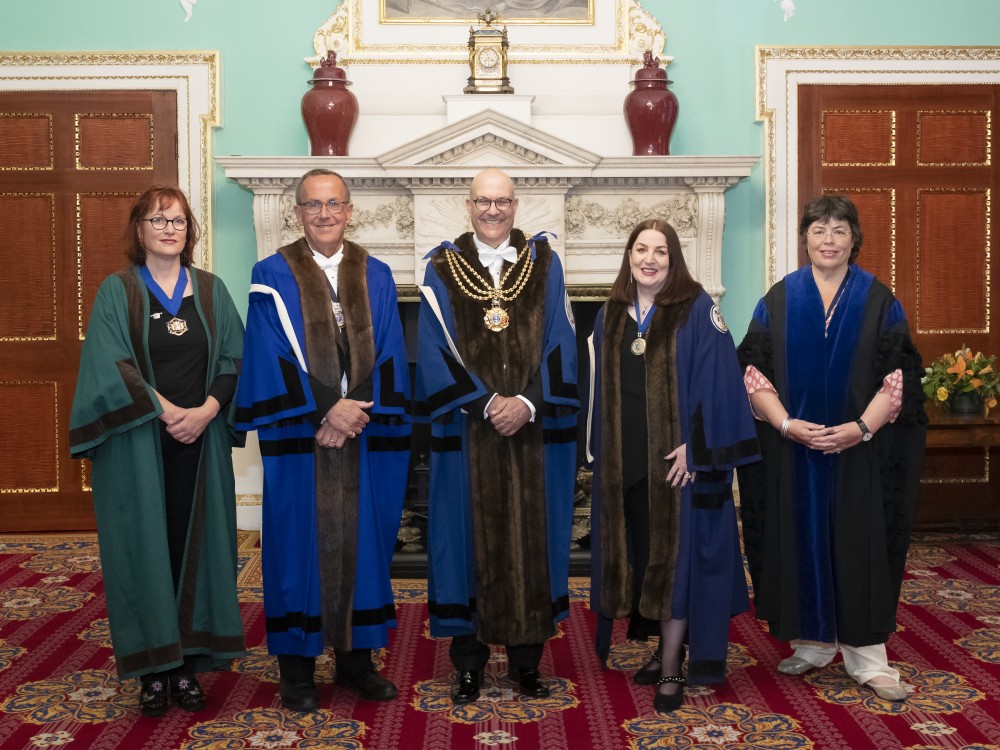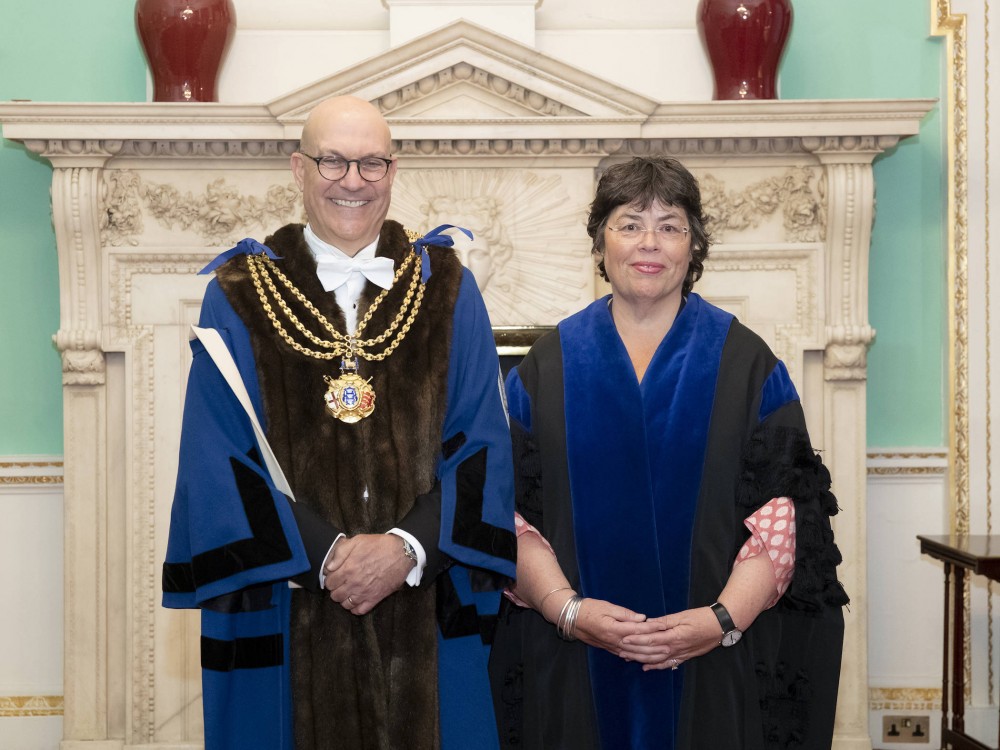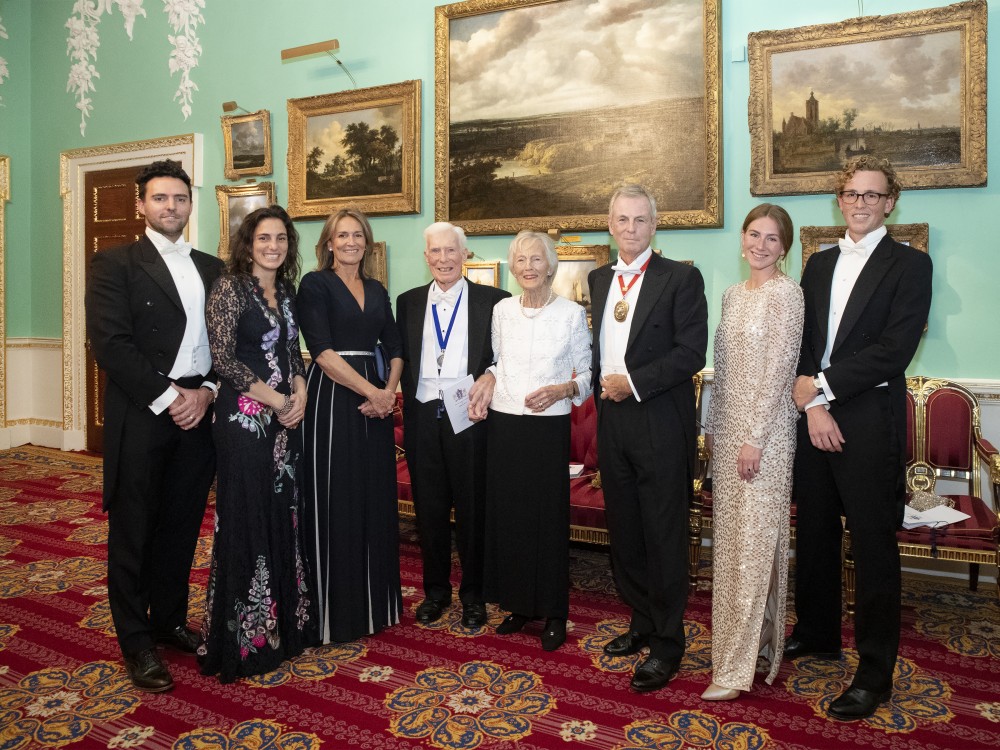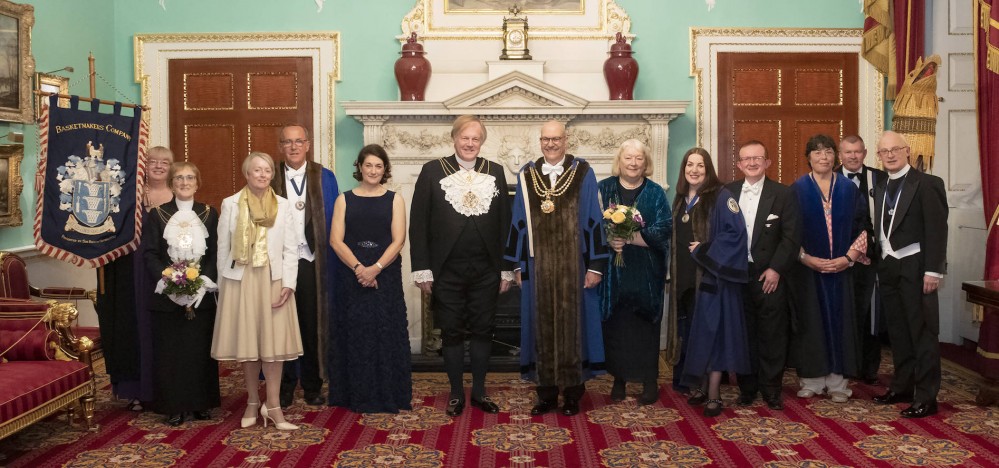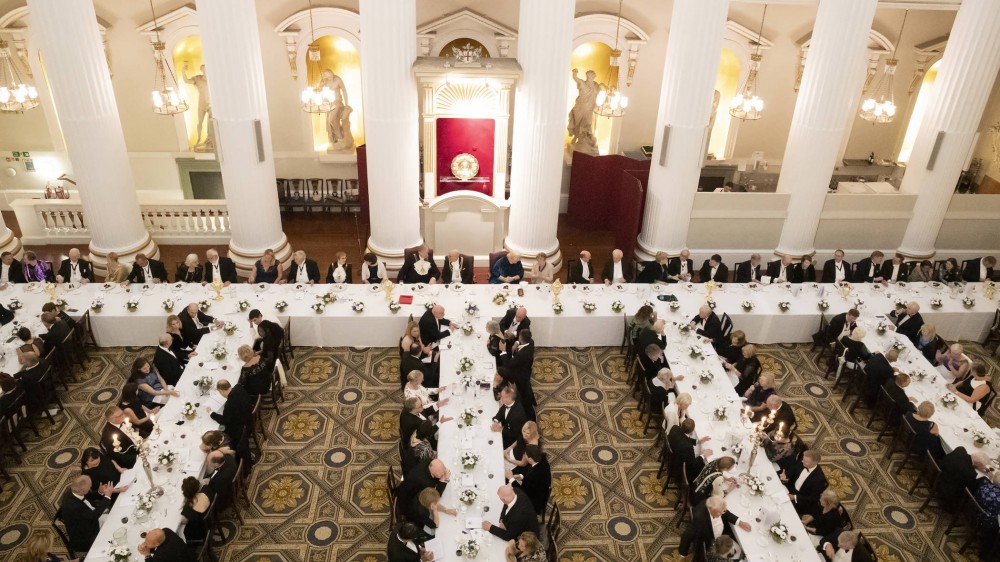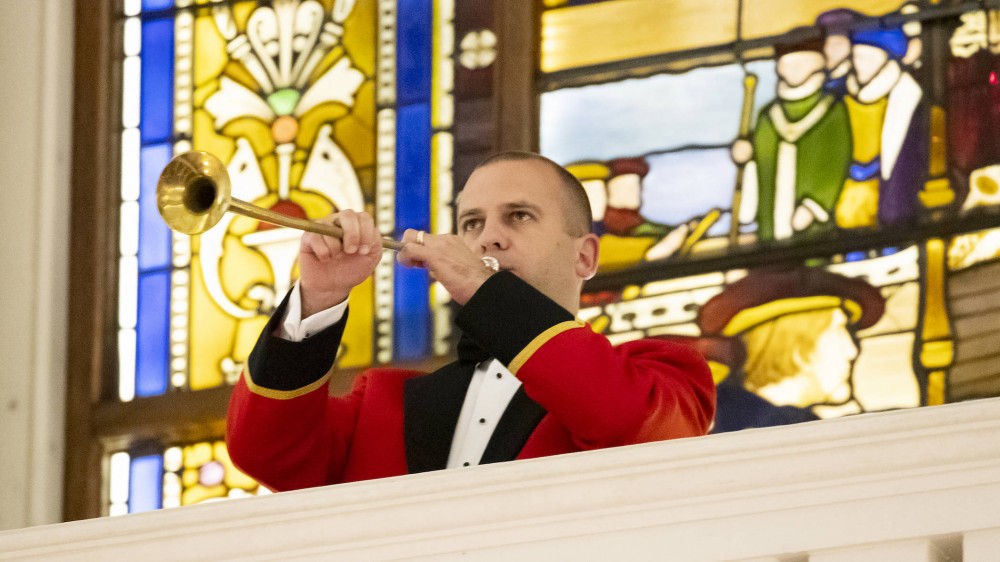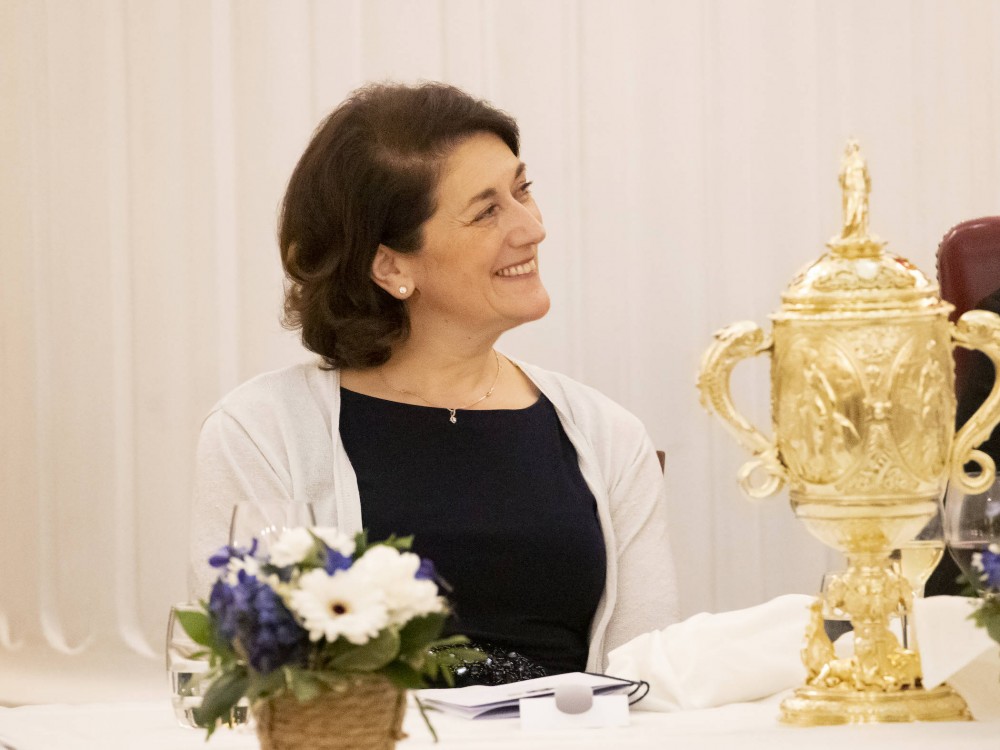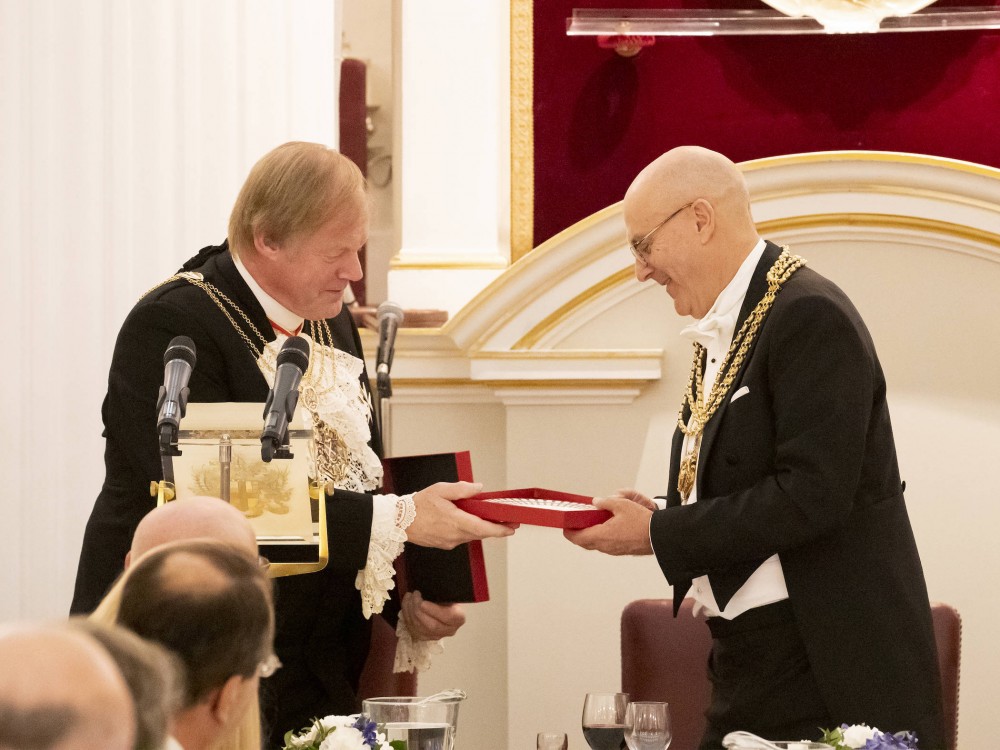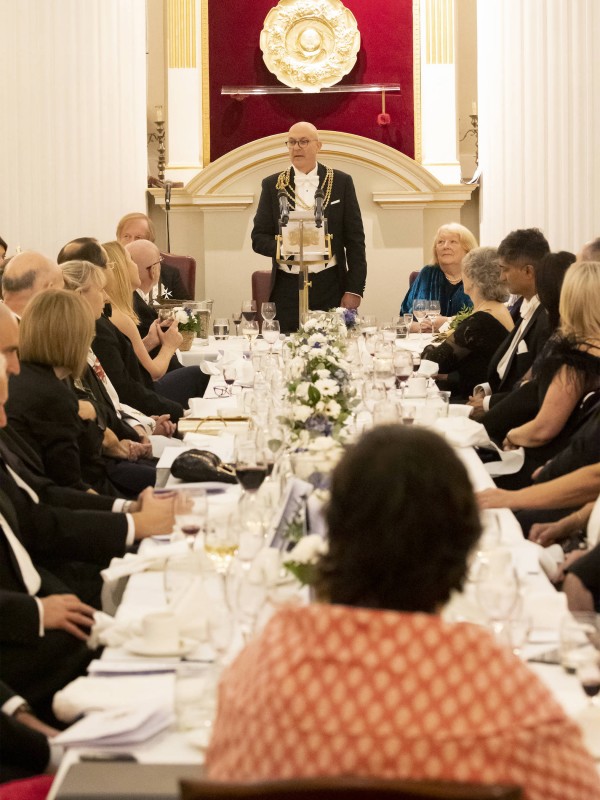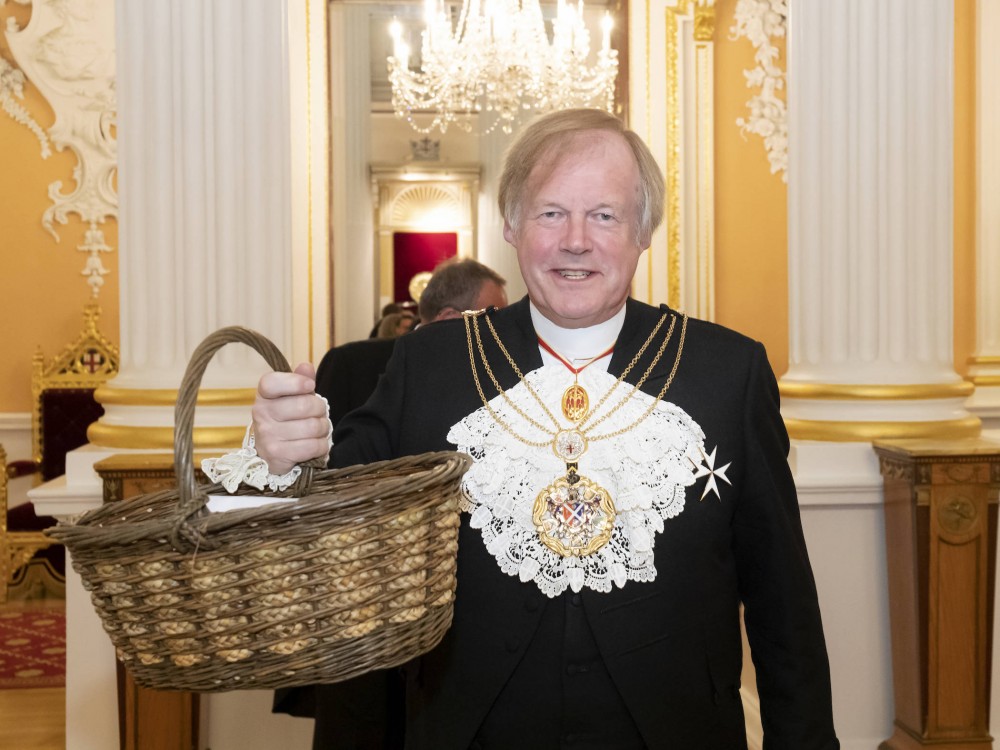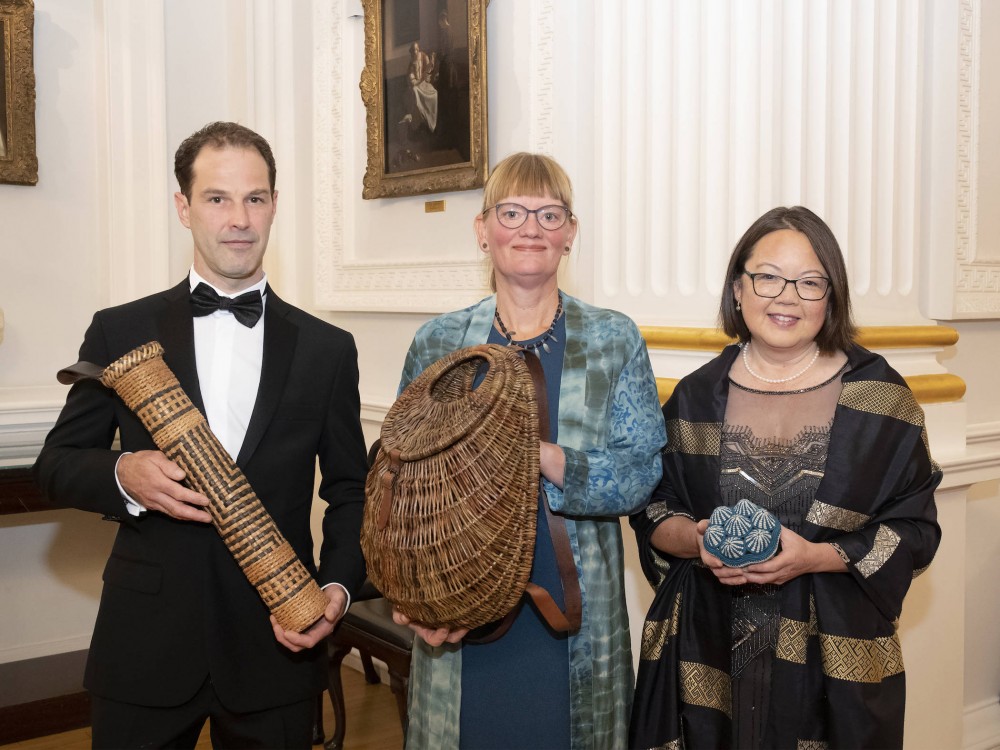 ---
Livery Trade Lunch
​​​​​​​21st July 2021
On 21st July members of the Company gathered, in person, for the first time since March 2020.   Prior to lunch, at a busy Court meeting in our 'new home' of Saddlers' Hall, Liveryman Chris Field was clothed in the Livery; new Freeman Poppy Fox, Diana Grattan, Richard Burn, Barry Tucker were admitted, along with new Yeoman Anita Vozik and the Trade Advisor Eleanor Morgan. In addition the Court also bound Apprentice Rosie Harrison to her Step-grandfather Richard Floyd and Peter Yarker's granddaughter, Eve,  signed her Indenture remotely.
We enjoyed drinks in the sunny courtyard with Yeoman members Sandra Barker, John Page and Anita Vozik exhibiting and sold some of their fine craftwork.  Yeoman Owen Jones MBE, who was awarded a Lifetime Achievement Award, showed his amazing Oak Swill baskets.
Lunch was a delightful affair with Master Baker, Master Butcher and their Clerks present and with Prime Warden Saddler making a very welcome speech telling the assembled company of the history of Saddlers' Hall and his own Company.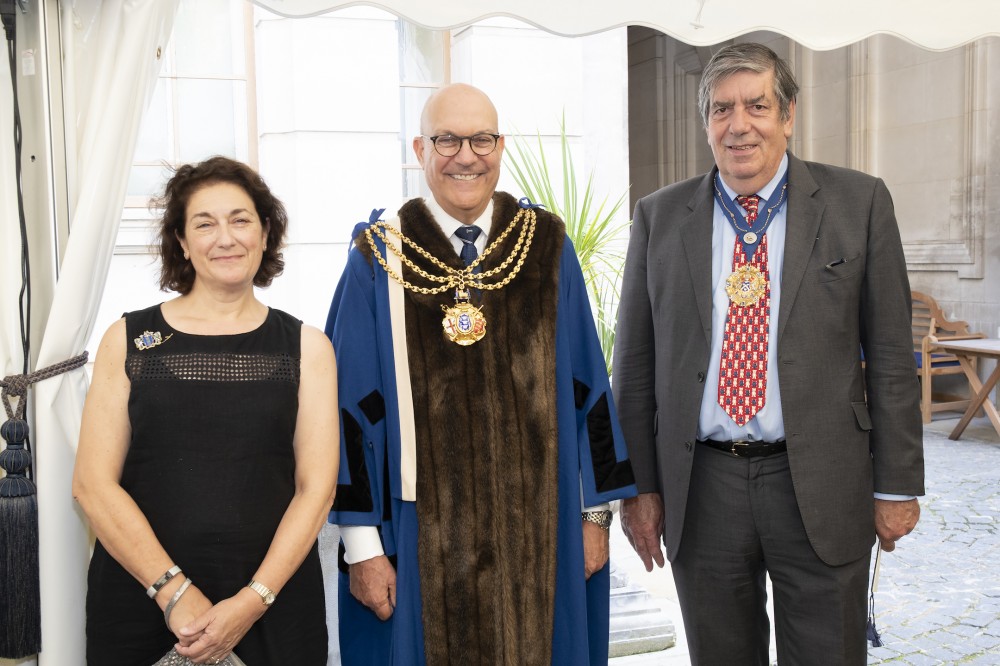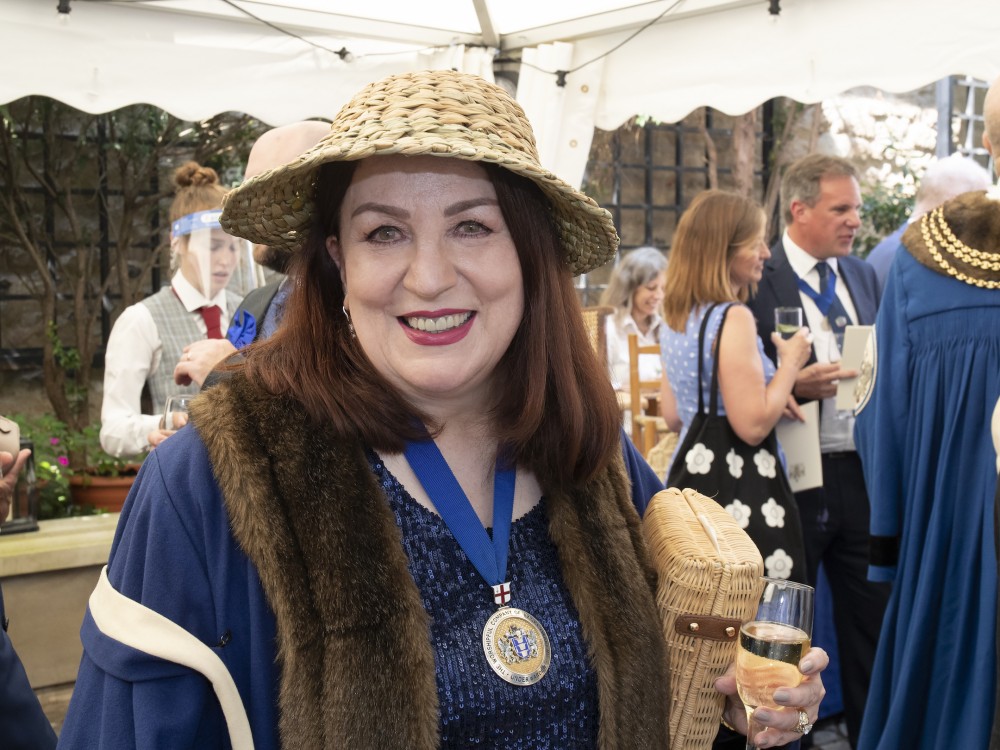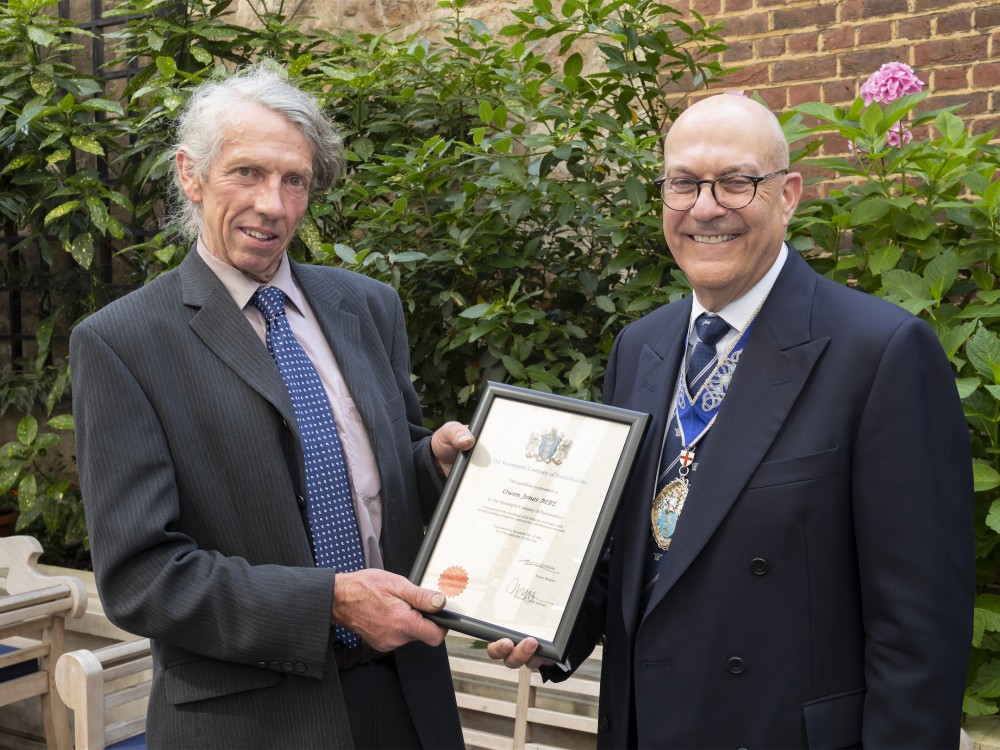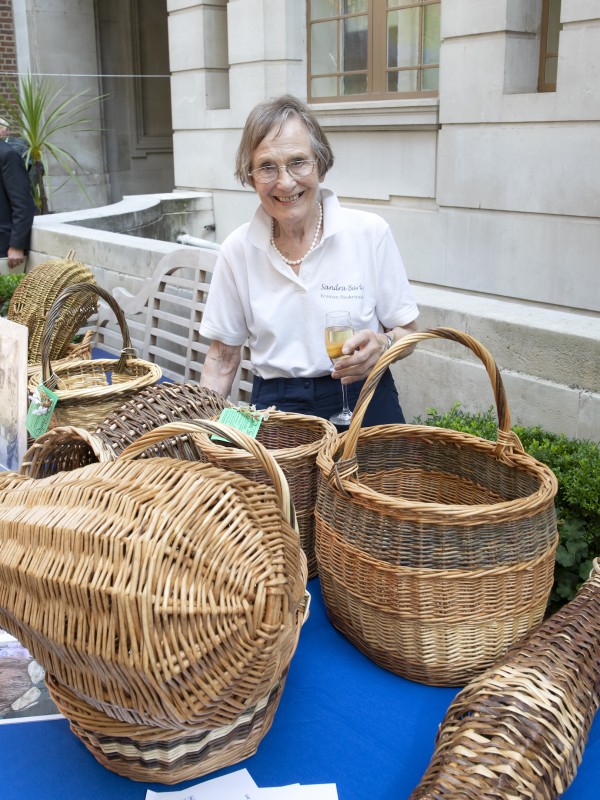 ---
Virtual Magic Evening
​​​​​​​30th June 2021

​​​​​​​​​​​​​​The Company enjoyed an magical evening during Lockdown, entertained by online Magician Alan Hudson.
Alan is one of the top magicians in the UK, who has performed all over the world and he provided a very successful virtual magic set for us to enjoy from our own homes.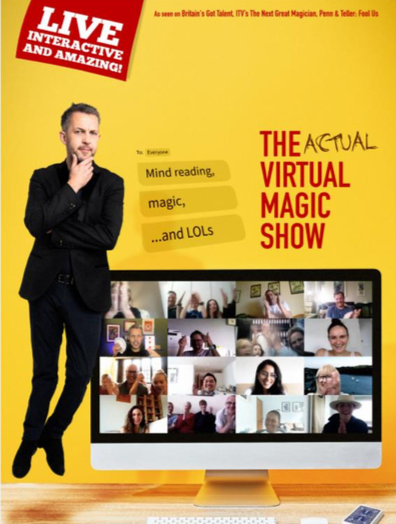 ---
Virtual Talk - Spanish Wine & Cheese Tasting
​​​​​​​13th May 2021

​​​​On 13th May Love Cheese took us on a journey around Spain matching Spanish wines with Spanish cheeses.  It was a surprising and delicious evening and greatly enjoyed by all.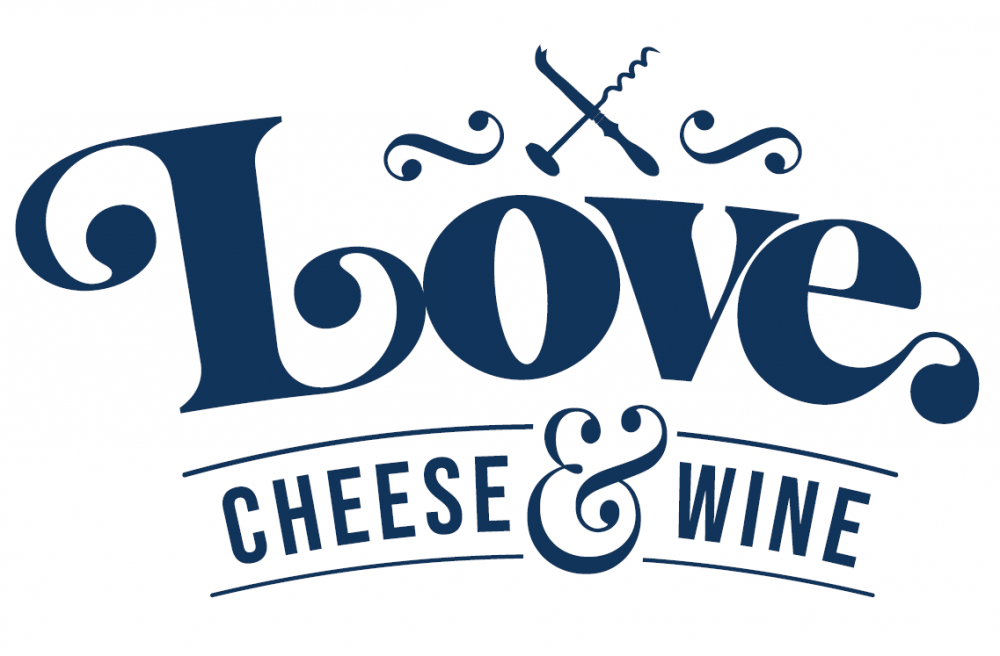 ---
Virtual Talk - Whisky Tasting
​​​​​​​21st April 2021

​​​On 21st April we took our tastebuds North of the Border to a fascinating tasting of six malt and cask strength whiskies from across the six whisky regions of Scotland.  "Whisky – The Influence of the Cask' was delivered by Paul Mains of 'Whisky Toasts' and much appreciated by all who took part.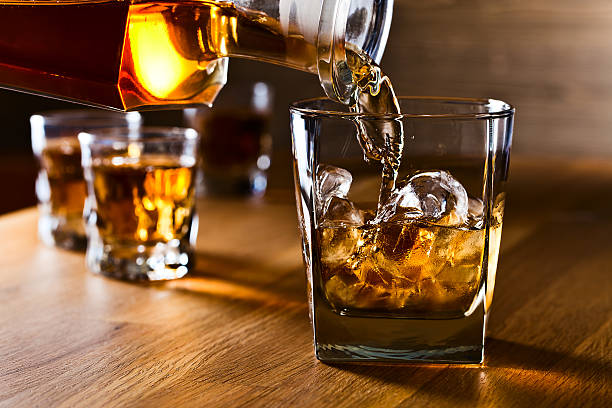 ---
Virtual Talk - Theatre Royal, Stratford East
​​​​​​​4th March 2021
On 4th March, we took to the boards with an informative and beautifully illustrated talk on the History and future plans of the Theatre Royal Stratford East  by the Director of Development, Liz McCarthy.  The Theatre's outreach programme is supported by the Company's Charitable Trust.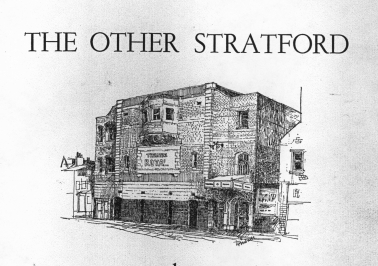 ---
Virtual Talk - The case for the humble basket in high art.
​​​​​​​1st February 2021
Sue King returned to our screens for a most interesting talk on basketry in high art, their meaning and purpose in the context of the picture.  It was fascinating and with Sue's guiding eye we saw the art and the basket in a very different way.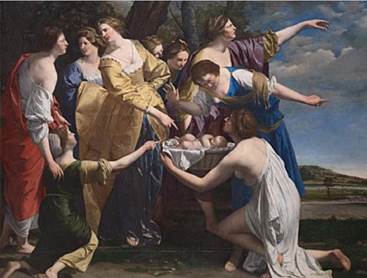 ---
Virtual Livery Dinner
​​​​​​​18th January 2021
We had our first Livery Dinner of the New Year on the 18th January and we were delighted to have as our guest speaker Professor David Katz who shared with us his thoughts on the Covid19 and the new vaccines.  It was fascinating.

---
Company Christmas Drinks
16th December 2020
No festive season is complete without a drinks party or two and, not meeting in person did not stop a merry gathering of members raising their glasses to toast the Company and good friendship despite it all.

---
Christmas Carol Service
10th December 2020
With the restrictions in place only a few members, local to London were a able to join in the Carol Service with the Pattenmakers' Company at St Margaret Patten but the Service was available on-line for the rest of the Company.


---
Fun Bingo with Honest Rog
3rd December 2020
Honest Rog as he is known to some, is our very own Upper Warden, Roger Harper who conceived and presents a most entertaining evening of fun and quizzes loosely based around bingo.  The Company was invited by the Entrepeneurs' Company to join them for a most enjoyable evening and in a Covid filled December.  Honest Rog is now being sought to hold similar evenings by others in the Livery and outside membership organisations.
---
Stewards Club Dinner
23rd November 2020
Each year the Stewards, past and present, dine together in a different and often unusual setting where the Immediate Prime Warden is presented with a gift from the Stewards and the new Stewards for the new year are presented with their Stewards medals.
This time the unusual setting was via Zoom!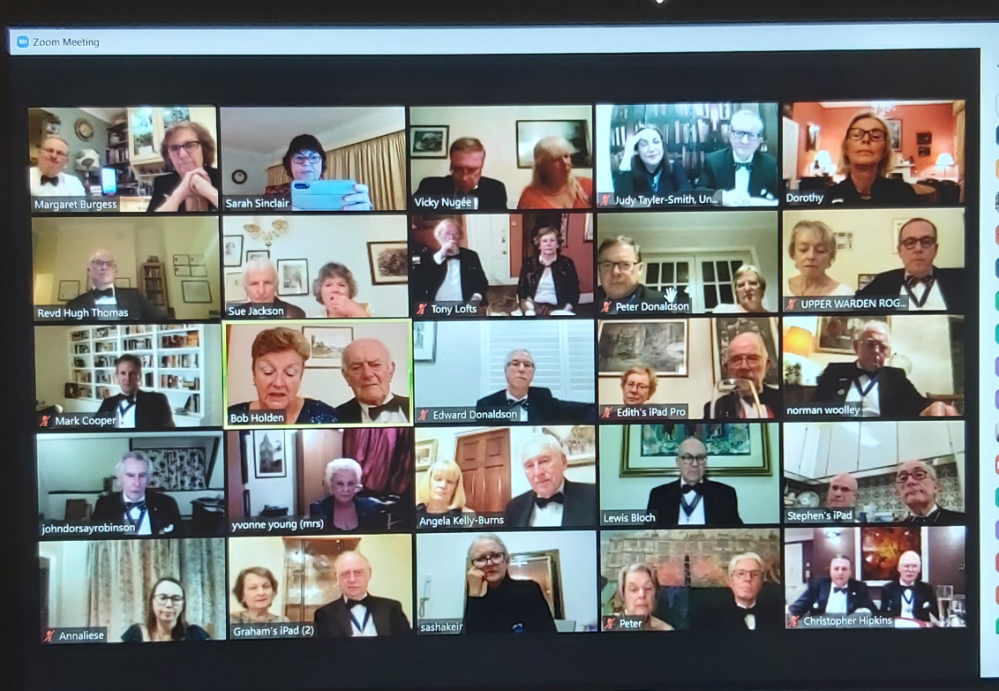 ---
Virtual Talk - The London of Charles Dickens
18th November 2020
A talk in our continuing series of zoom talks by Liveryman Sue King.  This time is was 'The London of Charles Dickens'.  Dickens called London his "Magic Lantern" and its people and places werethe inspiration for the characters and scenes in his books. Follow in his footsteps, Sue King took us on a fascinating virtual tour of the streets and alleyways which Charles wandered from a young age. 

---
Installation Day
​​​​​​​14th October 2020


Every Prime Warden's Installation is special but, in a year of disruption and uncertainty created by the pandemic, it was even more important to celebrate and welcome a new year in the Worshipful Company of Basketmakers - in style and in keeping with the Company's motto of 'Let us love one another'.
On Wednesday 14thOctober, at South Hampstead Synagogue, Lewis Bloch was installed in the 452ndyear of the Company's history at an intimate and moving Service that was transmitted by Zoom to an audience of Company members and Lewis's friends and family. It was the first time that an Installation ceremony was recorded and it enabled a download for the archive.  
The ceremony embraced both the Jewish and Christian faiths. An excellent introduction was delivered by Rabbi Shlomo Levin, the senior Rabbi of the South Hampstead congregation. Rabbi Eli Levin delivered a fine address and proceeded to bless the new Prime Warden with the Aaronite blessing. Prayers were also recited by our very own The Rev'd Hugh Thomas.  
The ceremony also included delightful music and singing from the AhMen Singers, a male Acapella group, beautifully accompanied by renowned violinist Miriam Kramer and pianist Steve Turner.  Our Beadle, Peter Thompson added gravitas to the whole event and was on hand to ensure the proceedings ran on time and in order. 
As in keeping with the restrictions for gatherings in these testing times, a limited number of people were able to attend and they included the Immediate Past Prime Warden, Anne Holden and her husband Bob, four members of the Court, PPW Graham Lewinstein, PPW Chris Hipkins, Court Assistant Philip Miles, Court Assistant Mark Cooper and our Almoner Mike Horton. Mrs Andrea Bloch and sons Adam and Daniel were also in attendance.
The Service included Common Hall and Ceremonial Court with remote contributions from the Chairman of the Finance Committee, Jonathan Pyzer and the Chairman of Trustees of the Charitable Trust, Graham Aslet.  The Upper Warden, Roger Harper; the Under Warden, Judy Tayler-Smith and the Trade Advisor, Eleanor Morgan were all installed via Zoom from their respective homes.
It may have been different but it was certainly memorable. Let us all hope and pray that by our next Installation in October 2021 everything will have returned to normal.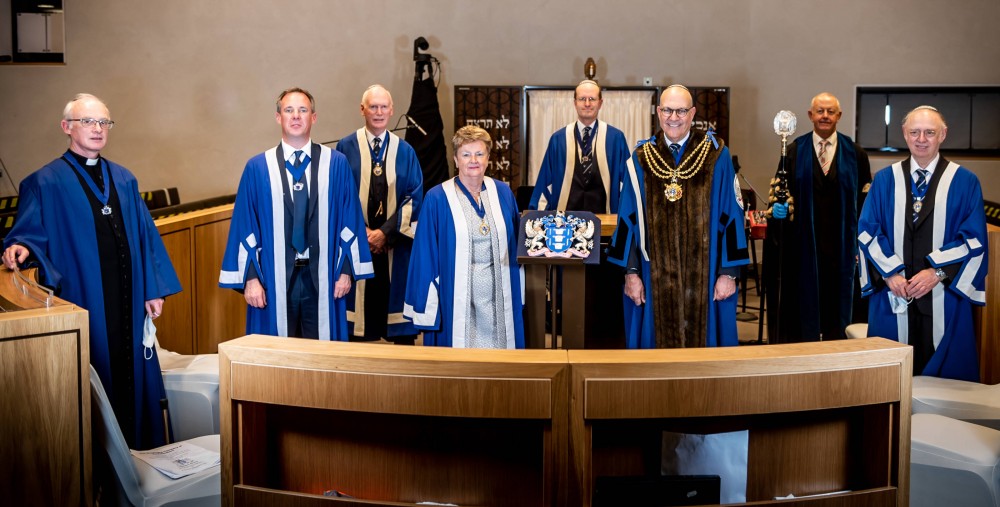 ---
---